Different practices in paragliding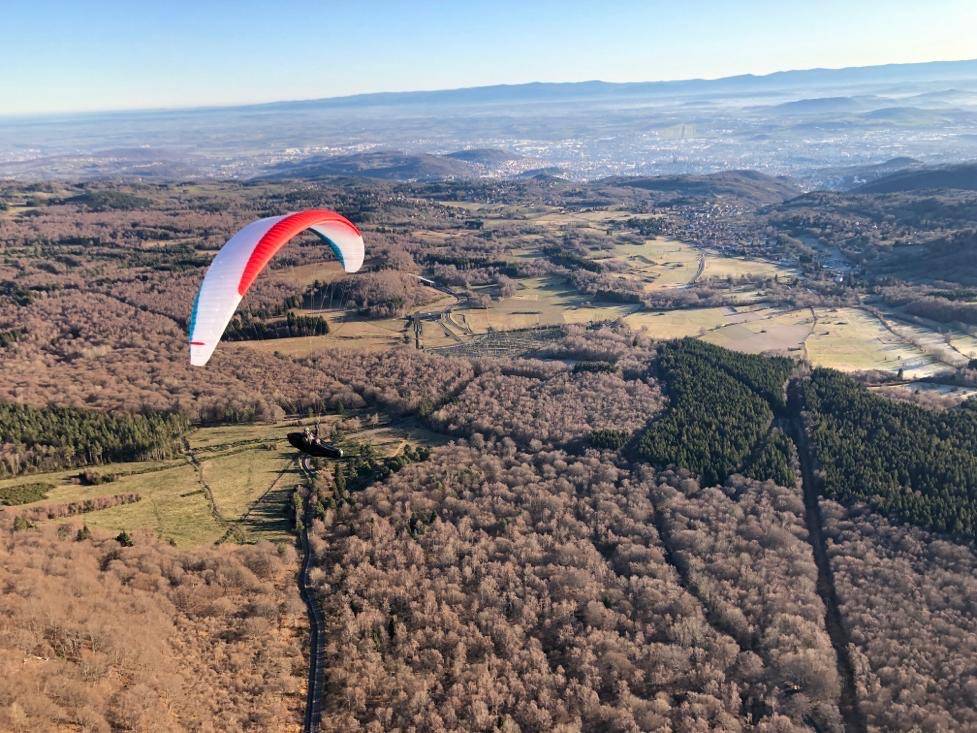 Alone or in tandem, paragliding is a sport that offers different types of practices and ways of flying, for all desires. We can note 5 main practices in paragliding:
The most classic practice: take your paraglider, take off and fly with the take-off and landing in mind. You can either fly in thermal or dynamic lift around the site, or do a "splash": a flight from take-off to landing but without trying to stay in the air.
This type of flight often concerns paragliders with a beginner's level or in progress who are looking for lift to exploit.
It is this type of flight that we do in paragliding courses on different sites in the Puy de Dôme: Puy de Dôme, Saint-Sandoux, Valbeleix, ...
It also concerns professional tandem flights, such as those we offer at the top of the Puy de Dôme. A flight to discover paragliding above the Chaine des Puys.
This is the sport that most people want to paraglide for. Also known as distance flying, the objective is to stay in the air as long as possible, climbing through the lift and thermals, to cover as many kilometres as possible! To achieve this type of flight, you need ascending air conditions and it is therefore important to watch the weather reports in advance to find out about the potential distances.
In France, the best time to find good conditions is of course in spring and summer: between April and September. The French distance record is held by Frederic Delbos, with 417km in June 2019. The world record was very recently broken in USA by Sébastien Kayrouz, who was the first person to break the 600km barrier with a flight of 612km. As you can imagine these flights last many hours and require a lot of preparation but it is very easy to stay in the air for a few hours for any advanced paraglider.
The most impressive practice in paragliding, acrobatic flight provides incredible sensations! However, it requires a lot of training, precision and rigour. Indeed, the figures will require a lot of piloting manoeuvres in conditions with a lot of centrifugal force, acceleration and weightlessness. We propose SIV-Piloting courses to learn to better manage the basic piloting techniques (pitching, surge braking, roll control, ...) to go towards more advanced manoeuvres and aerobatics. These courses are held in Annecy, in a magnificent setting, above the lake, with 2 qualified instructors, for greater safety.
We also offer adrenaline tandem flights, for everyone, for thrill seekers who would like to discover paragliding in an acrobatic and incredible way.
Soaring consists in playing with the laminar wind that comes up along a relief (slope, ridge, cliff, dune, ...) and that provokes ascents that allow a paraglider to fly without descending and to play with the relief and fly close to the ground. It is a game quite appreciated by paragliders, quite addictive and which provides a lot of adrenaline.
The Dune du Pyla is really the most famous place in France for soaring even if there are many other places for this practice!
For lovers of paragliding and nature, rando flying is the best and most sporty way to fly. Contrary to other practices where paragliders reach the summit by car, shuttle, train, ... the practitioners of rando flights reach it on foot! This practice, which has always existed, has developed enormously in recent years with the arrival of light equipment and a total weight of no more than 5kg as opposed to 10 or 15kg previously.
Nowadays, you can more easily take off with your equipment on your back in the mountains, climb a lot of hills and take off from wherever you want.
The Auvergne is really a wonderful region for backpacking flights, whether in the Sancy or even the Cantal.
It's up to you to choose which practices you enjoy the most to make the most of your flights and get the most out of paragliding!