Paragliding bivouacs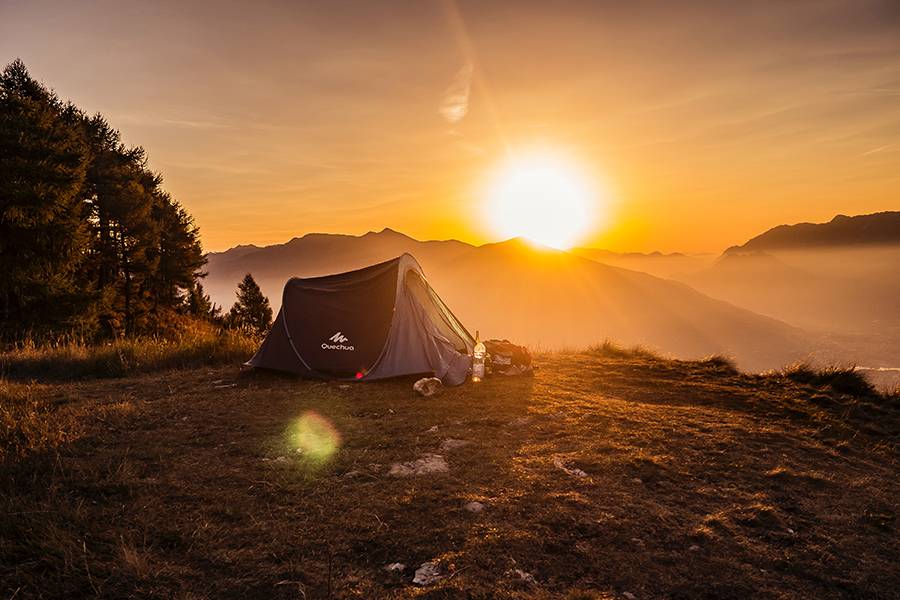 Beautiful days are back and you may have had the idea and the desire to go on an adventure with your bivouac and paragliding equipment. Today we tell you everything about this practice: level required, equipment, regulations in France, sites in Auvergne, ...
Bivouac to get closer to nature
Similar to the trekking flight but with the added aspect of sleeping outside, the bivouac flight is a way to really enjoy the landscapes and get closer to nature and disconnect for a few days or more. It is a great activity to recharge your batteries in the mountains between flying, walking and bivouacking and to discover different sites over a few days. The day in expedition, between walking and flying and in the evening camping, to leave the next morning for a new day of hiking and paragliding; the flight-bivouac is really an activity for nature and paragliding lovers.
What level of paragliding is required to go on a bivouac?
But this practice requires a minimum level in paragliding, as well as special equipment. It is important to be completely autonomous for take-off and landing, to have a certain piloting technique and to know how to analyse sites and environments that are often unknown. Bivouac flying also requires a certain level of physical fitness for the walking aspect, depending on the route you plan to take.
If you wish to start your first flight-bivouac trekking adventures, it is of course preferable to start slowly: don't leave for 1 week but rather for 2-3 days, on easily accessible sites, not too technical, to enjoy these few days and to want to start again by challenging yourself a little more.
What equipment should I take for my trek and my bivouac in paragliding?
Bivouac requires more equipment than a basic flight. You have to bring more material to sleep, eat, ... It requires more weight in addition to the material to fly. To avoid breaking your back, and to be able to support the days of walking, it is necessary to optimize the stuff you take and to opt for light or ultra-light equipment.
The checklist of equipment for bivouac:
Light sails: Either classic light sails or monosurf sails for the best pilots. The advantage of the monosurface glider is that its folded volume is reduced by about 30 to 50% compared to the classic gliders, its weight is also much lower, and the inflation of the glider is much easier. These are important advantages in mountainous areas. But beware, the piloting of a monosurface glider is quite different from a classic glider. It is necessary to be able to pilot and to be serene in the air with this type of glider before leaving for a bivouac.
Ultra light harness: In light harness category, some brands offer products that are more like harnesses without any protection. Some are less than 200g! You can find the Kruyer 3 from Kortel, the Roamer P from Niviuk or the Slip from Airdesign.
Light Rescue Parachute: Although not mandatory, a rescue parachute is an essential part of your equipment for your safety. There are various light rescue parachutes available, such as the Supair Fluid light 1.1kg for a size S or the Shine with the same weight. You will find light and compact belly bags perfect for walking and flying. Some paragliders even leave without a reserve to lighten their load. At your own risk.
Backpack: The backpack is important for bivouac and expedition flights. It is what will hold all your belongings. It needs to combine volume, light weight and ergonomics. If you are using a Kruyer harness, there is the Sak III reversible airbag compatible with this harness. For those who want a simple bag, Niviuk have recently released the Kargo Expe bag: an ultra-technical, lightweight, ergonomic and durable backpack perfect for walking and flying and bivouac. Available in 2 sizes for those who want to take more or less stuff, it will be your great friend during your expeditions. This is really for us one of the best backpacks for bivouacs.
Tent, sleeping bag and mattress: for your camp equipment, there is nowadays very technical equipment, very light and which takes very little space. You can easily get by with less than 1.5kg for all this gear.
Water and food: Water and food are of course very important in this kind of expedition because it is what will keep you going but it is also what can quickly take up weight in a backpack. For food, you will have to deprive yourself a little and favour dry food that you can eat without heating: cereal bars, crisps, dried fruit, ready-made meals in sachets, etc. Also think about vitamin bars or gels that can allow you to regain strength quickly during heavy efforts. For water, take a bag of water that is sufficient but not too heavy either. If you know that you are going to places where you will find water to fill your water bottle, that's fine, otherwise there are also survival straws (LifeStraw®) that filter and purify any water. These are not excessively expensive and can be very useful during expeditions. Don't forget the box of matches for campfires! This is important for keeping warm, especially in the mountains.
Medical equipment: It is important to take a few tools and medical products in case of small accidents: bandages, compresses, disinfectant and a survival blanket just in case. These few accessories take up very little space but you will be glad you have them.
As you can see, the objective in bivouac is of course to optimize the weight and volume of your equipment for ergonomics and to be as comfortable as possible during the walk and the flights.
Bivouac regulations in France :
But before going on a bivouac, it is important to know the rules to respect in nature. Many people do not necessarily know the rules, yet it is important to respect the rules for the good of all: the fauna and flora but also the people you may meet in the mountains (shepherds, guides, etc.).
To begin with, bivouacking consists of setting up camp for one night (roughly between 7pm and 9am): pitch your tent in the morning and leave in the morning to continue your journey. You cannot pitch your tent for a few days and leave it all day long because otherwise it becomes wild camping and there are rules to respect.
For bivouac, rules are quite simple:
For your tent: it is forbidden to pitch your tent:
On private land without the owner's permission
On the seashore and in registered or protected sites
On public roads and highways
Within 500m of a listed or registered historic monument
Within a 200m radius of a water supply point tapped for consumption
Around areas defined by the municipality by order for safety or health reasons
Certain classified parks, sites and nature reserves (see park regulations before setting off)
For campfires:
Making a fire in the open is forbidden within 200m of a forest,
On land that you do not own or do not have permission to use,
Look at the regulations for the different natural parks.

Make sure you find out about the authorised or unauthorised areas and the rules to be respected before setting off on an expedition and sleeping in a bivouac under the stars.
Bivouac flying sites in the Puy de Dôme and in the Auvergne
And we are lucky, the Auvergne offers great possibilities in terms of bivouac and walking and flying for paragliding. Beautiful mountain landscapes and great paragliding spots to disconnect and go on an adventure for a few days!
Massif du Sancy :
In the Puy de Dôme, the Massif du Sancy offers many walking and flying sites and beautiful hikes. Go hiking and paragliding in search of fresh air and 360° panoramas and also enjoy the coolness of the mountain lakes. Various landscapes for a few days of bivouac in the middle of nature.
Find the paragliding sites of the Massif du Sancy in our article on all paragliding sites in the Puy de Dôme.
Massif Cantalien :
A little further down in the Auvergne, in the Cantal, the Monts du Cantal are also great sites for bivouacking. Peace and quiet, beautiful green landscapes, numerous sites, ... what better way to come and enjoy a little bivouac adventure alone or with friends with your tent and paraglider.
Most important spots are the following:
Le Puy Mary (1 783 m altitude): The most visited site in Auvergne
The Plomb du Cantal (1,855 m altitude)
The Puy de Peyre-Arse (1 806 m altitude)
The Puy Chavaroche (1,739 m altitude)
Puy Griou (1,690 m altitude)
Puy de Seycheuse (1,650 m altitude)
But you'll find plenty of other spots just as nice.
A great walking and flying paragliding competition (without the bivouac aspect) is organised every year at the beginning of July in the heart of the Cantalien Massif: the Cantal Air Tour. This shows the quality of this site in terms of paragliding. You can still register for this year directly via this link.
Now that you know more about bivouac flying, maybe you can organise your first little trips alone or with your paragliding friends in the Auvergne or elsewhere in France and in the world. A great way to enjoy a few days and completely disconnect from everyday life in the middle of nature!